Awards
Watch Dr. Lycka Explaining His Favorite Award (The Consumer's Choice Award That He's Won 14 Times!)
Dr. Lycka is honored to have been awarded a number of accolades over his distinguished career. He thanks all his long-term patients who have supported him, and looks forward to continuing to help people look and feel great for years to come.
Dr. Lycka Receives National Philanthropy Award!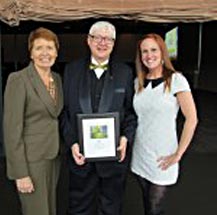 The Nov 8, 2013 (Awards pics) YWCA greatly honored Dr. Lycka by nominating him for a National Philanthropy Award through the Association of Fundraising Professionals. The awards are presented each year during National Philanthropy Day to recognize individuals, corporations, foundations and fundraisers for their time, talent and dedication to the spirit of giving.
(Pictured: YWCA representatives Stephanie Perilli [r] and Jacqueline Foord [l] pose with Dr. Lycka at the Shaw Conference Centre following the ceremony.)
Here is a list of other awards and accolades Dr. Lycka has received:
Dr. Lycka has been honored to receive the Consumer's Choice Award for Business Excellence 14 years in a row!
Dr. Lycka is the founder of the Canadian Skin Cancer Foundation and the Ethical Cosmetic Surgery Association
Author of numerous best-selling books
Mentors and teaches other doctors from around the world
In-demand speaker at medical conferences and international symposia such as the American Society of Nonsurgical Aesthetics, American Academy of Dermatology and the American Society of Cosmetic Dermatology and Aesthetic Surgery (ASCDAS)
Member of the esteemed American Society of Surgical Professionals (one of the few Canadians to join this group)
Dr. Lycka receives an award from the Alberta Association of Fundraising Executives