Charitable Support and contributions by Dr. Barry Lycka MD
A key value of Dr. Lycka's organization is to support local non-profit and charitable organizations. This is a value we choose to work on every single day.
Here are few of the many examples of our charitable support:
Women of Distinction
YWCA Dr. Lycka is the co-presenting sponsor of the 2013 Women of Distinction Awards, an annual event that celebrates the achievements of women in all parts of our community. Dr. Lycka loves this event because he loves to support women who do wonderful things. These women are trailblazers in our community, advocates for social change, business entrepreneurs, educators, volunteers and champions of arts and culture.

Corporate Sponsorships

Harriet Tinka – Dr. Lycka has been an important supporter of the YWCA Women of Distinction awards for many years. The Women of Distinction is an event that recognizes women who have inspired and mentored others in their industry and have a direct impact on the lives of those around them. Harriet Tinka was the 2013 Nominee in the Educator category. This category nominates an individual who is an educator of children or adults and has empowered her students to do great things.
Read more here.
Walk A Mile In Her Shoes
He also supported the Walk a Mile in Her Shoes event, encouraging men to raise awareness for the YWCA's family violence recovery and prevention programs.
Canadian Skin Cancer Foundation
Dr. Lycka founded the Canadian Skin Cancer Foundation and the Ethical Cosmetic Surgery Association. This year's Red, White, and Blues Fundraiser event was another success!
Ovarian Cancer Canada Walk of Hope
I would like to thank everyone who supported and walked in the 2016 Ovarian Cancer Canada Walk of Hope on Sept. 13 in Edmonton. There is strength in numbers, and the amount of support was overwhelming for this annual event. I served as the team captain for Claire's Cancer Crusaders, and I'm pleased to announce we met our goal of raising $1,000.
The Walk of Hope supports Ovarian Cancer Canada, the only national charity dedicated to overcoming this disease. All funds raised go to providing support to thousands of women and families living with the disease. This support includes increasing public awareness, funding vital research into prevention, improving treatment and ultimately, finding a cure. In Canada, there are approximately 17,000 women living with ovarian cancer.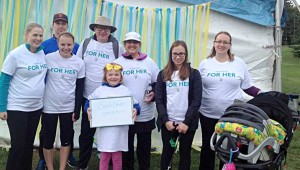 Since the founding of the Ovarian Cancer Canada Walk of Hope by Peggy Truscott in 2002, the event has raised over $19 million. Peggy's goal of bringing women living with ovarian cancer and survivors together in a supportive community environment has been a great success. Each year, this nationwide event is held in over 45 communities.
– Dr. Barry Lycka of Claire's Cancer Crusaders
Other Charity Support
Dr. Lycka continues to provide services at no charge to victims of domestic assault, or tattoo removal for people trying to end their involvement with gangs.
Who knows what's in store for next year?