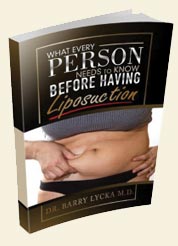 Considering lipo? Educating Yourself is the best FIRST STEP
Learn about liposuction
There is a very important first step any person considering liposuction should take: you must educate yourself about the procedure. This will help ensure you choose the right doctor, the right clinic and the right type of surgery to give you the safe, effective results you seek.
Here at Dr. Lycka's office we perform many liposuction surgeries each year. One thing Dr. Lycka always insists on is that each and every one of his patients is well-educated. To further encourage this, he's written a new book that gives a complete overview of liposuction. It's called What Every Person Needs to Know Before Having Liposuction. When patients come to Dr. Lycka for a liposuction consultation, they can request this helpful resource.
Inside you will find…
What to expect from liposuction, from pre op to a year after the procedure
What the recovery process is really like
What types of lipo are available, and which one might be right for you
How to weigh cost versus value when choosing a cosmetic dermatologist
And the big ones: Will it work? Will it hurt? Is it safe? and Can I afford it?
Phone Dr. Lycka's office at 780-665-3545 to book your consultation. He can help you determine whether liposuction might be the right procedure for you – and help get you educated!
Feel Better, Look Younger with our exclusive insider information package.
If you don't have time to read Dr. Lycka's book, this information package is made specifically for you! Just fill our your contact information and we'll send you this exclusive information for FREE!