Get Festive with Fillers
'Tis the season to arrive at your holiday party with confidence thanks to highly effective fillers at Barry Lycka MD & Associates!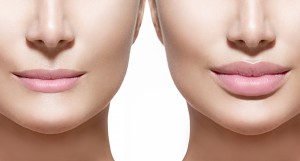 Whether you're looking for a plump pout, smoothed out smile lines or a fresh face, our impressive inventory of fillers is sure to make your wishes come true – just in time for the holidays.
For Luscious Lips
Thin lips can be genetic, or they can be a side effect of the aging process as the lips gradually lose their volume. For our amazing clients looking to restore volume in their upper and/or bottom lips, we use quick and efficient dermal fillers.
Dermal fillers are used to augment (i.e. supplement, enhance or enlarge) the lips by injecting hyaluronic acid into the area to restore lost volume and create a natural-looking pout. At Barry Lycka MD & Associates, we use Juvederm and Restylane for lip augmentation, as they are dermatologist-tested and trusted.
For a Softer Smile
Smile lines are a very common sign of aging, and while smiling is never a bad thing, the creases it leaves behind can make people self-conscious about their skin. At Barry Lycka MD & Associates, we offer Bellafill, the 5 Year Filler, which is a polymethylmethacrylate (PMMA) collagen filler.
The collagen in Bellafill provides instant volume, making it an ideal treatment to indulge in before hitting the holiday party scene. The collagen is naturally reabsorbed by the body while the PMMA microspheres create a matrix that supports more collagen production.
For a Fresh Face
Hyaluronic acid fillers, like Emervel, are excellent options for treating facial lines and wrinkles. Emervel restores elasticity and volume while retaining moisture in your skin to reveal a healthy glow.
Ideal for facial lines, cheek contouring and lip volume, this versatile filler will have your skin looking and feeling youthful for the holiday season. The procedure can take as little as 15 minutes, which is perfect timing for a lunchtime appointment.
Learn More About Fillers
Find out which filler is right for your skin by booking a consultation online or by calling 780.425.1212 today!