Gloves in a Bottle®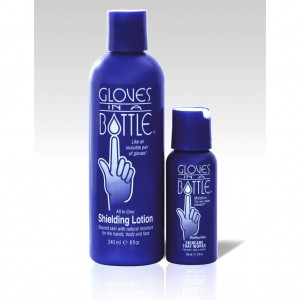 What is Gloves in a Bottle?
Gloves in a Bottle® is a shielding lotion that bonds with the outer layer of the skin forming what works as an invisible shield. It helps protect the skin from environmental irritants while helping the skin to retain its own natural oils and moisture. This makes it the perfect dry skin care product. It can also work wonders on hands, feet, knees, as we as elbows!
What can it treat?
Gloves in a bottle will treat the following skin conditions;
Dry Skin
Cracked Skin
Psoriasis
What are the benefits?
Gloves In A Bottle® doesn't rub or wash off the skin easily, which makes its protection truly long-lasting. One application lasts four hours or more and comes off naturally as the skin exfoliates. Gloves In A Bottle® is like what it says it is. It's like wearing a pair of gloves without wearing gloves.
This shielding lotion is a non-greasy, non-sticky, hypo­allergenic, non-comedogenic and completely safe. It keeps the outer layer of skin functioning properly so it can breathe and perspire naturally.
While conventional moisturizers, lotions, and skin creams coat your skin with petroleum or wax-based substances that tend to clog pores and inhibit the skin's ability to breathe and perspire, Gloves in a Bottle functions so well that the skin breathes and perspires naturally. Because it literally becomes part of the outer layer of skin, it does not wash off like other lotions but comes off naturally as your skin exfoliates. For continued protection, simply reapply in 4 — 12 hours.
For information on how this product will revive and protect your skin contact us  780-425-1212 or visit us today.