Laser Therapy
As we age, we all need a little maintenance from time to time. If you are looking to improve the overall appearance of your skin in a non-invasive and easy way, you should consider Laser Therapy.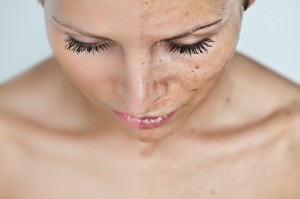 What is a Laser?
The word laser stands for light amplification by stimulation emission of radiation. Lasers are medical devices that use high energy, focused beams of intense light.
What are Lasers used for?
Medical professionals have been using lasers for some time now. It allows surgeons the ability to work more precisely.  Laser therapy has been known to improve wrinkles and fine lines, removal redness from skin disorders like rosacea and broken capillaries.
For medical procedures: 
Burns
Poikiloderma
Hyperpigmentation
For cosmetic procedures:
Skin resurfacing
Age Spots
Brown Spots
Sun damage
Wrinkles
Birthmarks
What type of lasers is used for treatments and procedures?
Most medical professionals use two basic types of lasers such as invasive and less invasive lasers. Ablative lasers simply penetrate the top layer of damaged skin, while the nonablative laser penetrates deeper into the skin without removing or damaging the surrounding skin.
What is the difference between ablative and non-ablative lasers?
The difference between the two types of lasers is:
Ablative

– meaning; more invasive
Works by vaporizing the outer layer of the skin causing the skin's natural healing process and the production of new collagen. Our patients receive great results with these lasers.
Co2 Ultra Pulse Laser is a high-powered fractional laser that produces a beam of infrared light continuously.
There are two options:
DeepFX – is a fractional laser that uses Co2 laser microbeams to precisely target the deep dermal layers of the skin while promoting new collagen growth. Recommended for fine lines, deep wrinkles, texture irregularities, burns, and scarring.
ActiveFX – is a fractional laser that uses a high-energy beam of light on the surface of the skin causing the upper layer to peel off and regenerate a new healthy layer of skin. Recommended when treating brown spots, wrinkles, and laxity.
Erbium Laser – is a resurfacing laser specially designed to remove the superficial and moderately deep line and wrinkles on the face. It is also known to stimulate new collagen production, resulting in tightening and smoothing of the skin.
Non-Ablative – meaning; less-invasive
Works by heating up the skin in a targeted area, without damaging the skin and surrounding area. As a result, it stimulates the production of collagen in the skin.
V-beam – is a laser that uses an intense beam of light, delivered in long pulses, to gently remove unwanted, damaged, or diseased cells without harming the surrounding healthy cells. Recommended in the treatment of rosacea, red birthmarks (Port wine stains), angiomas, poikiloderma, facial veins, and brown spots.
Fotona QX MAX (YAG) – is a laser used for removing tattoos. Another name of it is the YAG Laser which provides the ideal platform for initiating wavelength conversions to create a true multi-wavelength pigment removal. The laser energy is absorbed by the pigments in the ink which breaks down into tiny particles. These particles are then removed naturally from the body by its own immune system.
Here at Dr. Barry Lycka MD & Associates, we have over several different types of lasers for both medical and cosmetic procedures and treatments.
Contact Us Today for your personal consultation today!