Introducing HydraFacial MD®
New to Barry Lycka and Associates – HydraFacials are a non-invasive way to bring out your youthful beauty, in just one treatment! Smooth fine lines and wrinkles, improve skin tone evenness and vibrancy and minimize the signs of aging with a treatment time of just 30 minutes, and none of the recovery time of chemical peels or laser treatment.
What is HydraFacial MD®?
HydraFacial is a non-invasive multistep procedure that combines the benefits of hydrodermabrasions, a chemical peel, painless extraction, and a medley of Antioxidants, Hyaluronic Acid, and Peptides resulting in clearer, healthier skin with no discomfort or downtime.
The treatment is soothing, moisturizing, non-invasive and non-irritating. The HydraFacial is an effective skin rejuvenation option for those who do not want the downtime that is usually associated with chemical peels and laser treatments.
What does a HydraFacial MD® procedure treat?
This amazing new technology is designed for all skin types, and anyone interested in improving your overall skin health. However, if you are looking for resolving common skin issues such as:
Fine lines and Wrinkles
Skin Tone evenness and Vibrancy
Skin Texture
Hyperpigmentation/ Sun Damage
Oily/Congested Skin
Enlarged Pores
Advanced Signs of Aging
Rosacea and Blemishes
How does HydraFacial MD® work?
The HydraFacial procedure is a 5- 6 step process, depending on the targeting skin issues which consist of the following:

 Vortex Exfoliation™  Activ-4™ serum removes dead skin cells to uncover healthy skin.

 Vortex Peel™ Glysal™ serum, a mixture of Glycolic and Salicylic Acids delivers the benefits of a peel without post-peel scaling.

 Vortex Extraction™ Patented, painless vortex-suction cleans out pores with the help of Beta-HD™ serum.

 Vortex-Boost™ * Proprietary Dermabuilder™ is delivered to help effectively address fine lines, skin tone evenness, and texture.

 Vortex-Fusion™ Antiox+™ serum is delivered to nourish and protect skin with Antioxidants, Peptides, and Hyaluronic Acid.
 Extend and Protect™ Maintain results at home with Daily Essentials™ featuring the same ingredients used in the treatment.
* Step 4 is only used in the treatment of skin brightening, aging, fine line and wrinkles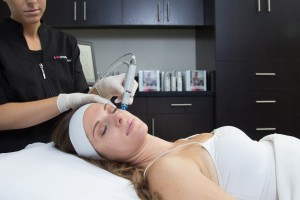 What are the benefits?
For All skin types
Immediate visible results
Procedure takes about 30 minutes
No downtime or discomfort
Combine benefit of antioxidants and hyaluronic acid
Before and After's




Why choose Barry Lycka MD & Associates?
Dr. Lycka is dedicated to helping his amazing clients leave his office with a new lease on life as they rediscover their most flattering figures. He and his medical staff will be with you every step of the way, from consultation to post-surgery care.