Our Facilities
What service means at Barry Lycka MD & Associates?
Barry Lycka MD & Associates Dermasurgery
Located in Edmonton's beautiful downtown core, in the First Edmonton Place Building Barry Lycka MD & Associates is within 30 minutes of surrounding areas including Stony Plain, Spruce Grove, St. Albert, Sherwood Park, and Beaumont.
Barry Lycka MD & Associates takes pride in our facilities by providing a clean and safe environment. We cater to the comfort and security of our patients from the reception area to our modern surgical and patient rooms. Utilizing only the best technology and state-of-the-art equipment in the field of cosmetic surgery and procedures, we ensure safety and peace of mind.
What's new at Barry Lycka MD & Associates?
Our facility is being expanded to provide patients with a sophisticated, relaxed, modern spa-like atmosphere. The first phase of our expansion is complete, and we look forward to phase two and three to be completed by July 1st, 2016. *
Note: Date of completion is subjected to change based on the practice needs.
Why choose Barry Lycka MD & Associates?
Finding a cosmetic dermatologist who is qualified, caring and has years of experience in the field is only the first step. Our patients choose Barry Lycka MD & Associates not only because Dr. Barry Lycka is a true leader in the world of cosmetic surgery, skin cancer treatment and Mohs surgery, dermatology and skin health, but for the entire team of friendly, knowledgeable medical professionals who work together to ensure unforgettable experiences for every patient.
What sets us apart?
With over twenty-five years of experience, Dr. Lycka offers a unique perspective and valuable insight for his amazing clients.
Barry Lycka MD & Associates continues to strive by building on a foundation of trust, understanding, and compassion in helping you achieve your cosmetic goals and we are willing to go above and beyond for our patients. During the post-surgery and recovery process, our nursing staff is on hand to answer all your questions.
Barry Lycka MD & Associates is also the Consumers Choice Award Winner for the past 15 years and striving for 15 more!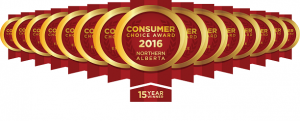 Click here to see what other are saying about Dr. Barry Lycka & Associates.
If you are researching a cosmetic dermatologist in Western Canada, one you can trust then simply request a consultation here to meet with Dr. Lycka and associates, or call our office at (780)-425-1212 to schedule an appointment.