Our Staff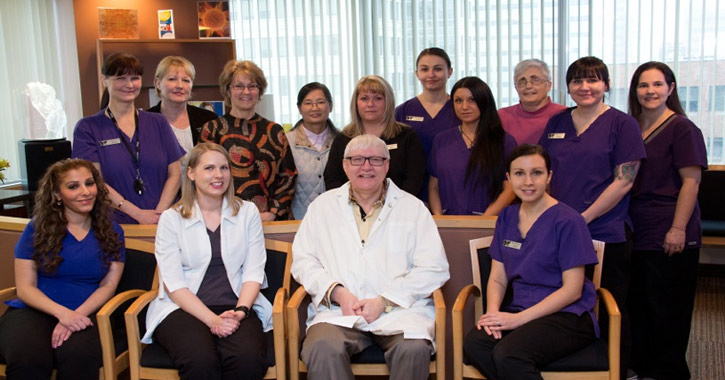 As you can imagine, running a very busy dermatology practice takes a lot of work! Dr. Lycka's office is staffed by a large team of people. Our employees are dedicated and caring professionals, whose job it is to support all of our patients before, during and after a procedure.
"We are a well-oiled machine when you put everything together; Our nursing staff is an integral part of this process. They all have special roles in patient education and overall quality of patient care. Out ongoing training helps to cultivate their special skills. For me, I enjoy being the "Captain of the ship" of an outstanding team. We are committed to and passionate about making a significant difference in our patient's lives. To see their happiness make us happy and there is no greater joy.  I really believe  "Expertise is important and excellence counts!" – Dr. Barry Lycka 
On any given day, our staff may be found assisting patients with their procedures, completing a thorough skincare analysis and recommending pharmaceutical-grade skin care products, or even offering make-up tips.
Dr. Barry Lycka & Associates Dermasurgery staff consists of the following:
3 – Nurse Practitioner
7 – Registered Nurses
4 – Nursing Technicians
3 – Receptionists
5 – Administrative Management
What service means at Barry Lycka MD & Associates?
Our talented, experienced staff works in collaboration to achieve natural looking results that meet our patient's individual needs. Our dedicated and caring staff are professionals in cosmetic dermatology and committed to customer satisfaction.
Looking for an exciting new position?
Dr. Lycka's dynamic cosmetic dermatology clinic is always looking for strong, professional and hard-working people to join his team.
We would love to hear from you if you have 3 – 5 years administrative or nursing experience. Dermatology and surgical experience are helpful, but if you have a great attitude and are a quick learner, your application will be considered as well.
Contact Information
Mailing Address:
Suite 780, First Edmonton Place
10665 Jasper Avenue
Edmonton, Alberta
T5J 3S9
Office Hours: Monday – Friday (8:30 am – 4:30 pm)
Conveniently located at the Corona LRT station.