Ulthera
What is Ulthera?
Have you noticed your skin starting to drop a little? Little wrinkles that weren't there before? Well, we can help with Ulthera! Treatments are designed for patients who are concerned about those first signs of maturing skin but are not ready for more invasive surgical procedures.
What can be treated?
This non-invasive treatment can be in the following areas:
Brows
Eyelids
Skin Around Your Neck
How is it performed?
Using ultrasound, and your body's natural healing process, Ulthera tones and tightens your skin. Ulthera stimulates the deep layers of your skin, bypassing the top layers to create new collagen underneath. The new collagen strengthens and lifts your skin, helping you look more awake and youthful.  Depending on the area, and your individual treatment plan, treatments can take up to 90 minutes to complete.
What are the benefits of the treatment?
One of the many benefits to Ulthera is there is no downtime, meaning you can have this procedure over your lunch hour. And, there are no special after-care requirements, so you can go about your normal day and routine. The results are natural and noticeable, without looking 'done'. Ulthera is a great option for those who are nervous about surgery or are between surgeries and want to touch things up.
What kind of results after can I expect?
Some patients see results immediately , however ultimately results will take place over 2-3 months, as new collagen replaces the old  cause the skin to tighten.
Before and After Ulthera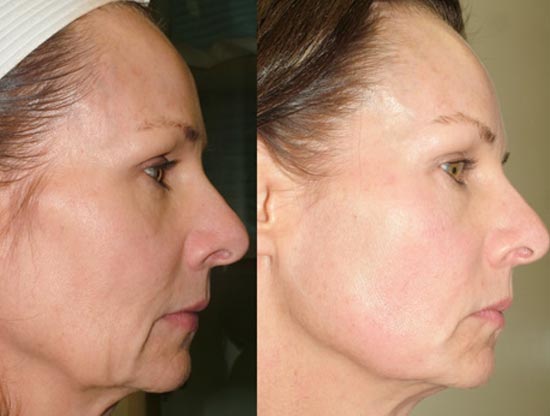 Skin Tightening Treatment Ulthera
A Facelift Without Surgery? It's Possible!
See how you can get the tight skin you've always dreamed of by booking your consultation today.