Visia Skin Complexion Analysis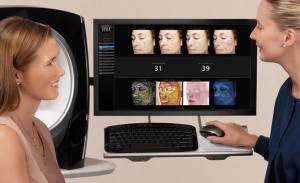 Dr. Barry Lycka & Associates is pleased to offer the Visia Skin Complexion Analysis. This system allows us to analyze current skin conditions above and below the surface and help us put together a unique and customized skin care treatment plan designed especially for you.
What is the Visia Skin Complexion Analysis?
This state of the art system will provide you with an extensive understanding of your skin while identifying your skin's problem areas. It will help you take the "Complex" out of your complexion and help us provide you with the best treatment options to restore, and rejuvenate your skin. The system captures key visual information for six areas that commonly affect the health of your skin, and it's appearance.
How does Visia Skin Complexion Analysis work?
The Visia Skin Complexion Analysis works by taking high definition digital images and  based on common skin conditions such as:
Sun Damage
Fine Line
Wrinkles
Skin Tone
Age Spots
Dark Spots
Enlarged Pores
Bacterial Growth
Who is a good candidate for a Visia Complexion Analysis?
The Visia Complexion Analysis only takes a few minutes and is open to anyone under the age of 75 years old.  As mentioned, this system allows us to look above and below the skin which is key to your success of achieving healthy skin. Once the analysis is completed our staff will sit down with you to discuss what the results are and what treatment plan is best for you. Everyone's skin is different and as a result, you will receive a detailed plan for the future that will help you keep your skin looking healthy refreshed.
Dr. Lycka recommends that you come in for a follow-up once a year with the Visia Complexion Analysis so that we can track your progress on your journey to healthy skin.